Part 30584c01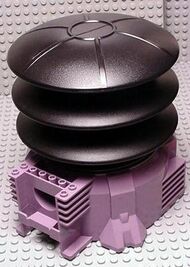 | | |
| --- | --- |
| Design ID: | 30584c01 |
| Introduced: | 2001 |
| Similar: | |
Appearances
Appearances:
1 in 7317 - Aero Tube Hangar (2001)
1 in 7690 - MB-01 Eagle Command Base (2007)
1 in 7691 - ETX Alien Mothership Assault (2007)
Part 30584c01 was a Part, first introduced in 2001. It was used either to propel a car, or to transfer an alien Hyper Sled through a flexible tube. This part was only available in three sets.
Appearances
Edit
SandPurple
1 in 7317 - Aero Tube Hangar (2001)
White
External Links
Edit
Ad blocker interference detected!
Wikia is a free-to-use site that makes money from advertising. We have a modified experience for viewers using ad blockers

Wikia is not accessible if you've made further modifications. Remove the custom ad blocker rule(s) and the page will load as expected.