Part 3626bpx34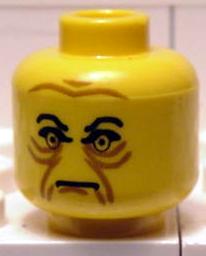 | | |
| --- | --- |
| Design ID: | 3626bpx34 |
| Introduced: | 2000 |
| Similar: | |
Appearances
Appearances:
1 in 7166 - Imperial™ Shuttle (2001)
1 in 7200 - Final Duel I (2002)
1 in 3340 - Emperor Palpatine, Darth Maul and Darth Vader (2000)
Part 3626bpx34 is a piece exclusive to the Star Wars theme, and introduced in 2000. The bright yellow head depicted the face of Emperor Palpatine, and has also been redesigned three times since. The face design is commonly referred to "Emperor Palpatine's head pattern", and has only been seen in three sets.
Appearances
Edit
Bright yellow:
1 in 7166 - Imperial™ Shuttle (2001)
1 in 7200 - Final Duel I (2002)
1 in 3340 - Emperor Palpatine, Darth Maul and Darth Vader (2000)
External Links
Edit
Ad blocker interference detected!
Wikia is a free-to-use site that makes money from advertising. We have a modified experience for viewers using ad blockers

Wikia is not accessible if you've made further modifications. Remove the custom ad blocker rule(s) and the page will load as expected.